YX-FWJ-1092/1575B Hitting Dot by Hitting Dot High-speed Rewinding and Perforating Sanitary Paper Machine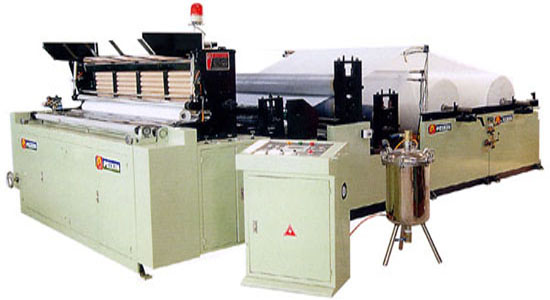 Structure & Character:
programmable controller controls system, the coefficient of production process automation is high, the function is complete and the production efficiency is high.
Without stopping machine, automatically exchanges the core, winds, sprays the glue and seals. Automatically raise and lower speed when exchanging material.
It is tight first and loosen latter when exchanging the machine when there is on core pipes.
Automatically indicating "to add the core pipe" and stop the machine when there is no core pipes.
Automatically stop the machine when paper breads off.
Each unwinding of jumbo roi/is separately equipped with tension control.
The regulation for exchanging to produce various core pipe winding is convenient andbrisk.
Paper was left in the products seal, enabling to use conveniently.
Stand is installed on the jumbo roll and pushed by. pneumatic.
Two sets of embossment roi/er are adopted to produce "hitting dot by hitting dot" products.
Main Technical Parameter:
Production Speed: 100 ~ 13Om/min
The Diameter of Finished products: 80 ~ 150 mm (adjustable)
Punching Line Distance: lO0 ~ 200 (it can be regulated)
Machine Power(two embossment stands including heating): 8.5 Kw (380v 50hz)
Equipment's Overall Size(Ixwlhm) : 5.3 × 2.7 × 1.8(w/th two embossment stands, two laid paper stands)
Width of jumbo Roll: 1092B type 1220mm, 1575Btype 1820mm
Weight of Equipment: about 4 tons (with two embossment stands, two laidpaperstands ,cutting machine one set
According TO The Request of Customers:
It can produce the machine with the paper width of 2.2m or 2.6m.
*Embossment pattern is seleted at users' option.