YX-MMJ-210 Vacuum Mini Type Face Tissue Machine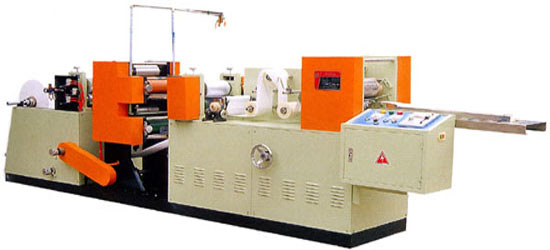 Structure & Character:
Embossing shape on paper is obvious and clear.
Knife style and folding form are advanced in designing, high speed operation is brisk.
Stepless regulates speed of unwinding, whole machine is operating synchronously, suitable to produce Iow or high grad paper.
According to the request, it can be equipped with 1 ~4 colors offset printing pictures or trademarks.
Folding style can be conducted by cutting tool(A type) or vacuum absorption style(B type).
Main Technical Parameter:
Production Speed: A type 400 ~ 600pcs/min B type 600 ~ 800pcs/min
Products Specification (L × Wmrn): a. 75 × 52(open 210 × 210mmr) b. 105 × 52(open 210 × 210mm)
Specification of Jumbo Roll:
Width: 180 ~ 210mm
Diameter of roller paper: < 1000mm
13 ~ 15 g/m2(three ply) 16 ~ 20g/m2(two ply)
Machine Power: 3.7kv(380v 50hz)
Overall Size(L × W ×H m): 3.6 × 0.8 × 1.5
Weight of Equipment: O. 9t